Warning! This scenario might contain activities that might not be suitable in selfbondage. Please play safe.

---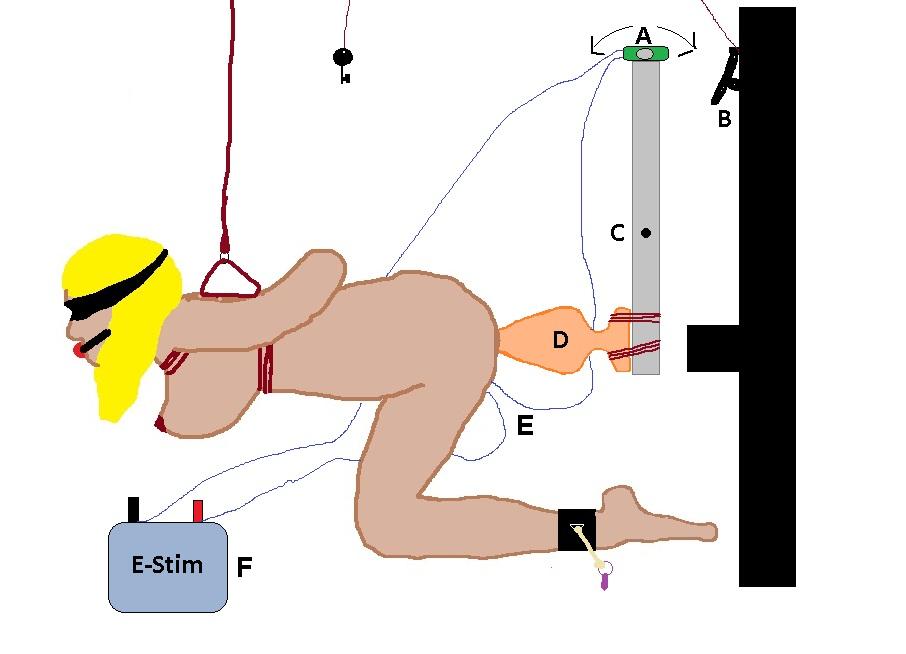 A. A mercury switch.

B. A spring clamp attached to a wall. It prevents the release key from descending.

C. A piece of wood that pivots on an axis (the black dot)

D. A medium or large butt plug, tied to the piece of wood.

E. A bi-polar electrode inserted in the vagina, or electrodes connected to cock and balls if male.

F. An electro-stimulation device or TENS unit set at a painful level.

In order to get the release key to descend, you will have to pull the butt plug towards you. This will cause the top of the wood to swing to the right, pressing on the spring clamp and releasing the string.

The only way to be able to pull on the plug is to fully insert it inside your ass, grip it tightly, and pull. As you pull your ass towards the plug, the plug moves to the right and the top moves to the left. This tilts the mercury switch and completes a circuit that sends a painful electrical stimulation to your genitals. You may have to make several attempts to carefully stretch your ass to get the plug fully inserted. You have to tolerate the electrical stimulation long enough to get the plug inserted. If you need a break, you need to fully remove the plug, rest, and try again.

Otto.